About Seven Seas Entertainment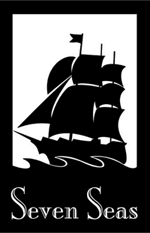 Formed in 2004 by Jason DeAngelis, Seven Seas Entertainment, LLC. specializes in producing and publishing original manga, graphic novels, youth literature, and bringing the best in Japanese licenses to North American audiences.
The company's line-up includes original manga properties such as the long running eleven-volume Amazing Agent Luna series, and the award-winning steampunk trilogy Hollow Fields; licensed manga such as A Certain Scientific Railgun, Dance in the Vampire Bund, and Toradora!, all New York Times bestselling manga series; and the YA novel series Avalon: Web of Magic by Rachel Roberts.
Seven Seas' web site, Gomanga.com, and dedicated web comic portal, Zoomcomics.com, has become a daily stop for thousands of visitors eager to read free manga online and contribute to an ever-growing forum community.
In 2007, Seven Seas partnered with Tor Books in a distribution and co-publishing deal. Together, they have published manga under the Tor/Seven Seas banner, such as Afro Samurai, the Wicked City novels by Hideyuki Kikuchi, Orson Scott Card's original manga series Laddertop, and a manga adaptation of Larry Niven's classic science fiction epic Ringworld. Meanwhile, Seven Seas continues to publish manga under its own banner, and is distributed by Macmillan.
Seven Seas' core expertise is creating original-English language manga. Since 2004, Seven Seas, along with native English-speaking writers, has created and published approximately 45 individual volumes of original manga, which total over 7000 pages of artwork and story.
Seven Seas works with a stable of highly-talented international manga artists. In 2007, Seven Seas' original manga Hollow Fields was a winner of the first Japanese Foreign Ministry's International Manga Award, the only work by a western artist to receive such a distinction at the time.
In addition to creating original works, Seven Seas has licensed existing properties and adapted them into manga, such as Speed Racer and the video game Death, Jr.
Seven Seas staple business is licensing manga from Japan and Korea, many of which regularly hit the New York Times Bestseller manga list. In addition to brand new licenses, Seven Seas has relaunched fan favorite licenses such as Gunslinger Girl, and in 2012, will continue the lapsed best selling Alice in the Country of Hearts series with the all new Alice in the Country of Clover series.
---
Interesting working for Seven Seas? Please see our Jobs page.
Interested in foreign licensing for one of our original properties? Please contact us at press@gomanga.com